Usually, real leather products last for a lifetime. But you need to put in the work for it. Regular cleaning, conditioning and a little maintenance plan can land you at your ultimate goal. Naturally, you would love to make the most out of your bucks. Then let's explore the ultimate guide on how to clean a leather sofa.
How to clean a leather sofa?
LeatherFact experts point out that light colored leather sofas must be cleaned twice a year whereas once a year is plenty for the deep colored ones. Here, we are divulging the secrets regarding how to bring back the shiny look of a leather sofa.
The simplest leather cleaning method:
Take baby soap in water and wring out a microfiber cloth in it.
Wipe the leather sofa surface gently.
Now, use another microfiber cloth to clean off the residues. 
Throw away the soap water into the basin after you are done. Notice the color of the filthy water. If you do it once a month, your leather couch will feel like new at once.
The easiest professional leather cleaning method:
Use a vacuum cleaner to eliminate dust, particles and dirt off the surface and inconspicuous angles. Dust it in case of lingering dirt.
Put half water and half vinegar to form a sofa leather cleaner. Stir it properly so that it mixes up well.
Soak microfiber cloth in it and wring out the cloth.
Rub the damp cloth (not wet cloth) on the surface of the leather. Do not rub backward and forward as it weakens the leather and escalate wear & tear.
Drying is one of the most vital segments of this task. Give it at least a good night's rest.
Doing it once or twice a year will keep your leather couch disinfected as well, apart from maintaining a bright appearance.
How to remove ink stains from a leather sofa?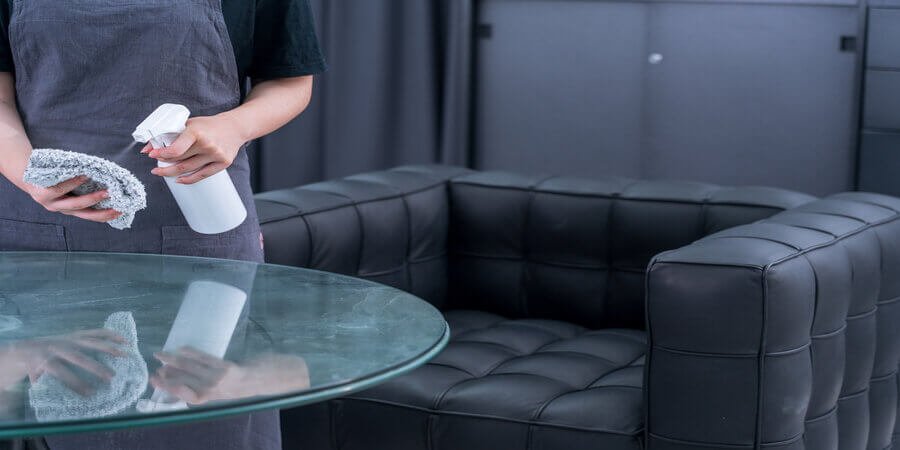 Stains are real enemies to clean a leather sofa and they must be dealt with on a then and there basis. No ifs and no buts. Well do not worry as we have got the effortless ink solution for leather right here.
Finished leather:
Soak a cotton swab in rubbing alcohol.
Press the swab lightly against the ink stain. Carefully avoid the areas unaffected by the smear. Every time you touch the spot, swap the swab for a fresh one. The mark will gradually fade away.
Stroke or tap the area with a soft and clean cloth.
Dry it properly.
Unfinished leather:
This is too delicate and rich for a rookie to handle. Take professional assistance.
Keeping pens close by the couch is a great way of paving disasters. Your kids might like to do their homework on the sofa, or in some other way, ink stains could possibly mar the appearance of the priciest furniture.
How to remove grease stains from a leather sofa?
If you stick to the regular sofa leather cleaning schedules, you will barely notice any grease stains at all. However, things might happen out of nowhere and a little trick up your sleeve could save you big time.
Unmistakable grease stain removal method:
Strew some baking soda right on top of the grease.
Give it at least an hour or more.
Use a soft and dry cloth or brush to wipe it out of the surface.
There are a number of highly useful leather degreasers designed to handle it like a pro. But you must apply it in an inconspicuous zone. So things do not spiral out of control.
How to condition a leather sofa?
Leather loses its suppleness and moisture over a period of regular use. Unless you restore these qualities, the sofa will inevitably look poor. Deep conditioning can easily retrieve the fresh and new feel of the leather couch. However, all cleaner residues should be wiped away before going for conditioning.  All kinds of cleaning should be followed with conditioning as well.
The easiest leather conditioning method:
The all DIY leather conditioning method:
Blend lemon or flaxseed oil with water in equal portions.
Plunge a soft cloth into it and wring it out properly.
Place the damp cloth on the leather surface and gently swipe along on all nooks and corners.
The following day, take a fresh and dry cloth to mop it up one last time. 
How to keep stains away from a leather sofa?
Genuine leather stands a greater chance of attracting stains. So you may have to adopt drastic measures to slash down the probabilities of accidents. Let's check out the most pragmatic path to a stain free sofa.
Mold & mildew: Warm and humid climates induce mold and mildew attacks. Apply wax or anti-fungicidal silicone resin to avert it. Sound ventilation goes a long way in this respect.
Immediate action: Whenever accidents take place, go for an immediate action. Chunk out the solid food or dirt. For grease and ink stains, adopt one of the methods stated above. Also, a solution of lemon juice and tartar cream in equal portions can work wonders for dark stains. Leave the mix for 10 minus and then mop it up.
Conditioning: Water based solutions can dry out the couch. It may initiate brittleness. Apply a fitting leather conditioner for sofa to avoid this kind of scenario, following each cleaning session. Conditioners immediately bring back the natural oils and lends a soft sheen. Put a cap on the use of water. 
Regular cleaning: Simple weekly or bi-weekly cleaning with a damp microfiber cloth gives outstanding tenacity and look of the leather sofa. It genuinely dampens the long term hassles and greater concerns.
Manual: You have spent a fortune on the leather couch. Now read the instruction manual you received along with it. Do contact the shop or manufacturer before running after other professional assistance. The guide will lay out a proper course of action for leather sofa treatment, in case things happen.
How to repair cuts on leather sofa?
Cuts on leather couches are way more difficult to take care of all by yourself. It takes steady hands. However let's jump in on a DIY.
Clean the area with a leather cleaner.
Cut off the stuffing bulging out of the hole.
Use a long metal tool to reach into the hole in order to paste a fitting leather glue in the inner side of the cut.
Clean the excess glue off the surface with a cloth slightly dampened with leather cleaner immediately after you are done with patching the glue.
Place your thumb on one side and gently press it towards the cut in order to strengthen the glued joint. You have to hold it for either a short or long period of time, depending on the surface tension. Do not treat it with a hair dryer for quick heat and dry as it will negatively impact the lifespan of the leather.
Better if you leave this task for the professionals. Most of the time, DIYs are a recipe for disaster.
How to repair flaps on a leather sofa?
Flaps can greatly restrict the beautiful look of the sofa. Luckily, treating leather flaps goes quite easy and simple as they do not cut all the way through.
Again, rub the affected area using a leather cleaner.
Apply the leather glue on the underside of the flap.
Push the flap back down on the leather.
Drive out excess glue from the surface using a cloth dampened with leather cleaner.
Allow it to air dry for at least an hour.
How to handle scratches on a leather sofa?
Leather is timeless but not immortal unless taken good care of. Scratches pop up once in a while to obliterate the beautiful look. Pets and kids are two of the usual architects in this respect. We need to figure out a process of maintaining a polished outlook anyway.
Use a leather cleaning solution to clean the zone.
Take mild oil on a cloth or a cotton ball and lightly mop up in a circular move.
Air dry it after removing the remnants of oil.
Conclusion:
The perfect leather couch gives an ultimate luxurious vibe. Your cleaning techniques weigh a lot in this respect. Handle daily wear-tear, cuts and scratches just like a professional. However, you must arrange the best leather kit to maintain your upper hand over any circumstances. Keep an eye on your manufacturer guide on all occasions before setting off for  DIY. For sure, your leather sofa is going to hold its softness and suppleness for several lifetimes.