Are you worried about the shininess of your leather boots? Then you must find out the best leather conditioner for boots.
Leather is much like skin, which needs a conditioner or any moisturizer that prevents dryness as well as makes it supple and flexible.
As we wear leather boots over and over, the condition of leather goods deteriorates. Due to humidity, heat, or water, the moisturizer evaporates over time.
So, extreme leather boot lovers like you, don't need to search here and there. Just spend 15 minutes from your valuable time and go through our whole article. Each of the parts will help you to prevent your leather from becoming dry, brittle, or is cracked.  
What is a Leather Conditioner? 
If leather loses its natural moisture – it starts to crack and discolor. In that case, leather conditioners are formulated such that they can be absorbed into the leather. And consequently, the fibers become nourished and flexible. Thus, conditioners for leather is quite essential.
Our Top 10 Leather Boot Conditioners:
It is worth mentioning that we have selected the 10 best leather conditioner for boots after 109 hours of research. Most importantly, we have used more than 26 products available in the market. 
Our expert team recorded their performance accordingly. After that, we have picked these top ten leather conditioners on our choice list.  
Because we aim to provide you genuine information to avoid any unpleasant situation. Let's have a look at them!
Danner Boot Dressing:
It's common to experience discomfort when you are out on a hike wearing new leather boots. Thus, to break in your leather boots in the best way, try Danner Boot Dressing with excellent results. This premium dressing compound is formulated to recondition your boot's drying color and the cracks without damaging the leather surface. This is one of the best leather shoe cleaner and conditioner. 
Area of Coverage:
You can apply the balm to full-grain leather boots only. But users claim to have a good result on other types of leather boots, shoes, and jackets. Besides, it is impeccable to soften and smooth your boot's leather.
Special Features:
Danner boot conditioner ensures water-resistance while maintaining breathability. Due to its breathable nature, the GORE-TEX boots' users will benefit the most – as a waterproof membrane needs to breathe through the leather.
As you apply this boot dressing on the dry leather surface, the compound will immediately soak up and bring new life to your boots. Besides, you can easily clean the excess coating as the product leaves no residual stickiness.  
The commodity, of course, is so harmless that you may not even need any cloth to apply the coating. Mere fingers will suffice for application. The conditioner is the key to protect and prolong your boot's life.
Pros:
Applicable to any color leather boots.
Efficient to use; without any waste.
Plenty of product in the container; expected to last long.
Dries immediately
Shining is more stable than usual.
Cons:
 May darken or stain bright leather.
Red Wing Heritage All Natural Leather Conditioner: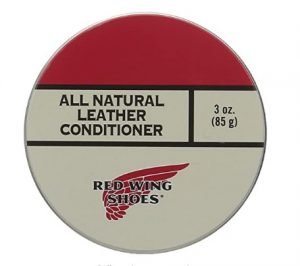 Are you looking for a natural leather conditioner? Look no further! Try our listed Red Wing Heritage leather conditioner for the best result. This exclusive product is a great proven tool for effective leather maintenance as it extends the life of your boots and other leather products beyond the usual life span.  
Area of Coverage:
Red Wing Heritage will give you the finest result for both your working leather products such as boots, shoes, belts, and sheaths as well as non-working ones like bags, shoes, and purses. 
Furthermore, this leather conditioner is exclusively beneficial for oil-tanned leather as well as the Rough & Tough, Portage, Chrome, and Legacy.
Special Features:
With the added benefit of beeswax substance, Red Wing Heritage provides an increased level of natural water-resistance to your leather products. 
Besides that, you can substitute this conditioner for all other natural-boot oil. Unlike other wax, Red Wing Heritage can perfectly mix with the leather surface and form a shiny, smooth texture.    
This 3 oz. conditioner is ideal to use all-year-round, as it gives protection against rain, wet grass, snow, and mud. The item is genuinely the best leather conditioner available on the market compared to other expensive wax-like mink oil or refined pine tar oil. 
Note that the solution in some cases may darken the leather initially, but it will lighten with wear. 
Pros:
Water-resistant; extreme seal formed by the wax.
Can be used in place of other expensive natural oil.
Available at an affordable price.
Prolongs boot's life.
Great for effective leather maintenance.
Cons:
As the wax cools, it solidifies and forms a thin layer.
Saphir Medaille d'Or Renovator:
You may know, Saphir Medaille d'Or has earned worldwide standing due to its highest-end shoe care products. You will get amazed, this company had also won the Gold Medal Paris 1925 that exaggerates its outstanding quality. 
Considering your expensive leather products, we have come up with Renovateur, a must-have Saphir's collection. It is unparalleled when we talk about exceptional cleaning, reconditioning, smoothing, and removing loose pigment or polish.
Area of Coverage:
The conditioner is exclusively formulated to recondition any delicate leather, such as the leather of calf and goat or shell cordovan. 
Its area of application includes leather made shoes, boots, handbags, apparels, and accessories. The rejuvenator helps to maintain the best condition of these leather items all year-round.
Special Features:
Renovator has been proven to be a unique cream for nourishing, conditioning, and revitalizing the color of your shoes. This compound also gives your leather item outstanding protection as well as a shiny appearance.
This nutritious leather cream is made of mink-oil based formula accompanied with other essential nutrients that rejuvenate your leather items. The leather surface absorbs the nutrients, resulting in restoring the original shiny color.
The leather balm beats other shoe polish products when it comes to matching leather color. It is certainly not possible to find a perfect match for the leather. But Renovator is unique as to the matching of color pigment. Because this substance provides a transparent color tint that develops the existing color and minimizes the darkening condition of the leather. 
Pros:
Easy and safe to use.
Keeps leather items in best condition.
Made of natural elements.
Restores the original color and shine.
Harmless to fine leathers.
Cons
Lexol Leather Conditioner: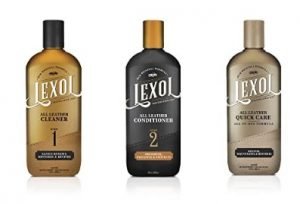 Whether you regularly using your leather items or keep them in the almirah, leather will get dry as time passes. The need for proper care of leather is undeniable as it can keep the leather items look new all year-round. In this case, the Lexol Leather Conditioner can be a wise investment.
Area of Coverage:
This exclusive conditioner is ideal to use on any leather made items, including auto upholstery, furniture, footwear, sports equipment, handbags, briefcase, and luggage.
Special Feature:
The best thing about Lexol Leather Conditioner is, you can have a 16.9 OZ conditioner bottle at an amazingly low price. Yet, the quality hasn't been compromised for the price. 
Since this conditioner is liquid-based, the leather surface readily absorbs the conditioner, and it goes directly into leather pores. 
Leather in contact with harmful silicon ingredients can dry out over time. But it is free of any such chemical. Thus, you can apply this conditioner to your luxury leather investments without any worry. Besides that, unlike other conditioners, it doesn't leave any greasy traces, which may damage the shiny look.   
For deep conditioning, users always prioritize Lexol Conditioner. Mainly because it prevents cracking and signs of premature aging in the best possible way without harming the leather quality. 
Thus, to keep your leather items supple, robust, and beautiful for many years, grab yours today! 
Pros:
Prevents cracking and signs of premature aging.
Doesn't leave any greasy residue.
Applicable to any leather made item.
Ideal for deep conditioning.
Comes at an affordable price.
Cons:
The leather darkens just a little bit.
Fiebing's Golden Mink Oil Paste:
Searching for a natural compound to quickly break in your new boots and want them to look amazing all year-round? No worries! Try Fiebing's Golden Mink Oil Paste for the best result.
This leather conditioning paste works well to soften any new boots and make the leather smooth. And the coating creates a long-lasting seal on the outer part that makes the leather waterproof as well as resistant to salt and stains.  
Area of Coverage:
Fiebing's Golden Mink Oil Paste is claimed as an excellent preservative for boots, shoes, gloves, jackets. Also applicable to other leather made products (e.g. harness, horse saddle) subjected to harsh outdoor use. Take into account that mink oil paste shouldn't use on suede leather as it can discolor the item. 
Special Features:
Different adverse seasons and agents like water or snow can destroy the leather color and also affect the leather condition. Keeping everything in mind, this 6 oz. mink oil paste contains all the ingredients, e.g. silicone, lanolin and, vitamin E that restores the lost glossiness in a minute.
Plus, this is special for its long-lasting feature. With this oil paste, you may need to recondition your boot once a month or even twice a year. Yet, the necessity for reconditioning depends on how frequently you use them or what level of shininess and waterproof you want them to be:
Pros:
 Preserves old, dry leather and extends life.
 Can keep your feet dry even in monsoon.
 The coating lasts longer than other ordinary oil.
 Easy to apply.
 Great for a quick conditioning process.
Cons:
The smell can attract cats or other creatures. 
Howard LC0008 Leather Conditioner (Size: 8-Ounce):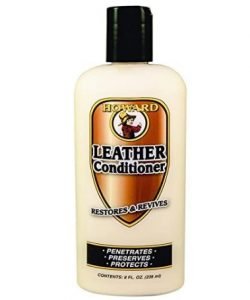 If you are searching for leather conditioners for boots, nothing can be more competitive than Howard LC0008 Leather Conditioner. It is well-known as one of the best wax conditioners, which brings back the lost vigor of your completely dried up leather shoes.  
In our top ten choice list, LC0008 is known as the best-scented leather conditioner. 
The cream locks up moisture and makes your leather soft. Most importantly, the uniqueness of the product does not leave any greasy or sticky residue. 
Protective Ingredients That Shield Your Leather:
This unique leather conditioner comprises neatsfoot oil, lanolin, aloe vera, and coconut oil. Besides, it contains some prophylactic substances such as beeswax and Brazilian carnauba wax. The solution is the best combination of wax and oil. 
Area of Coverage:
You can use Howard LC0008 Leather Conditioner on your shoes, purses, couches, tack, and saddles, and even on auto interiors. 
Special Features :
This is a creamy conditioner that changes the look of your leather goods with its extensive nourishing effect. The special ingredients revive your torn-out leather goods without making them oily. 
In a word, this lotion-like leather conditioner increases the brightness and longevity of your leather. And, penetrates and protects smooth leather. 
Pros
Does not contain any harmful solvents or silicones.
Makes the leather surface water-resistant.
Withstand cracking, eliminates scuffs, and resits dry rot.
Coconut scented.
Easy to apply and carry.
Cons:
You cannot use it on Suede, Nubuck, or Aniline.
 Some leathers may get darkened slightly. 
Bickmore Bick 5 Leather Cleaner and Conditioner (Type: Spray, Size: 16oz):
Bickmore is a world-famous brand that has been providing complete leather care since 1882 with ultimate customer satisfaction. This time the trademark presents you with Bick 5 that is the best and guaranteed non-sticky leather cleaner and conditioner in our top list.
Area of Coverage:
The conditioner is a perfect solution for all of your household leather goods like shoes, jackets, bags, sofas, couches, harness, tack, auto interiors, etc.
Special Features:
Bick 5 is a specially formulated product that helps you to clean and condition your leather components. It keeps your belongings in good condition and ensures their longer lifespan.
The conditioner comes in a handy spray bottle. And, the adjustable spray cap makes the application super easy and exciting as it facilitates you to control the spray pattern. 
This is the most fantastic feature of Bick 5 which makes the product different from all the other alternatives in the market. In other words, it is the best conditioner for leather boots.
You just need to spray it on the preferred area and polish with a clean piece of cloth. That's all you have to do.
Besides, you will find no traces of residue or presence of stickiness after completing the cleaning process. 
Moreover, if you wish to recondition your age-old leather shoes or new leather couch, you can undoubtedly go for this daily leather care maintenance solution.
Pros:
Does not make leather sticky.
Thick rich formula.
Convenient spray system.
Made in the U.S.A.
Deeply nourishes.
Cons:
It is not ideal for suede, napped, or rough-out leathers. 
Bickmore Leather Conditioner, Scratch Repair Bick:
Bickmore has established the tradition of excellence since 1882. Among other products, the Bick LP stands supreme due to its leather-life-prolonging quality. 
This leather protector prevents the wear and tear of heavy use and guarantees that your goods remain in excellent condition for the coming years.
Significantly, the restorer balm is the best one to protect your leathers in adverse environmental conditions. 
Area of Coverage:
Most amazingly, you can apply the scratch repairer and conditioner in all types of leather commodities like shoes, boots, bags, jackets, work gloves, tool pouches and belts, sofas, couches, vehicle interior, horse tack, baseball gloves, and many more.
Special Features:
Bickmore uses a unique time tested formula to revive and safeguard your leather. This heavy-duty leather preservative shields your boots against excessive heat, water, petroleum acids, caustic chemicals, dirt, and salt. 
Your shoes lose natural oils because of excessive use. Thanks to Bick LP for restoring those essential oils. Besides, the conditioner softens your leather and prevents premature cracking, stitch tear, and dry rot. 
The softener is the perfect choice for all the harsh environments and professions, including welders, farmers, construction workers, firefighters, plumbers, police officers, heating and cooling specialists, motorcycle enthusiasts, horse caretakers, etc. 
This solution assures your comfortability and durability. Your loving leather stuff will shine once again! Therefore, 
Pros:
Enhance the longevity of your leather
Provides industrial-strength protection
Locks-up natural oils of your leather
Perfect for all types of leather goods
No harmful chemicals.
Made in the U.S.A.
Cons:
Some massive cracks may not disappear. 
Otter Wax Leather Salve | 5oz | All-Natural Universal Conditioner:
Do you need the best shoe conditioner that keeps the moisture and at the same time provides a long-lasting glossy shine to your leather goods? 
In this case, Otter Wax Leather Salve is your ideal solution because it is the best leather boot conditioner. This fantastic item is the perfect solution for conditioning and restoring your leather boots while polishing and protecting them. 
Area of Coverage:
Without any hesitation, you can apply the conditioner on leather boots, shoes, bags, hats, furniture, auto interiors, etc. 
Special Features:
Otter Wax Leather Salve comes with environmentally friendly ingredients like carnauba wax and shea butter that hydrates and conditions your worn-out leather shoes. 
The shea butter deeply nourishes the hide, and the carnauba wax shields your shoes' surface while increasing the shine.
So, this genuine product can provide you a complete leather care service. 
Pros:
Affordable and easy to use.
Water-resistant and non-toxic.
Hundred percent natural ingredients.
Leaves no oily effect.
Restores moisture and increases shine.
Made in the U.S.A.
Cons:
Only available in a neutral tone
Small packaging 
Nikwax Conditioner for Leather Footwear:
Are you worried to maintain the condition of your leather boots and shoes from water and unfavorable weather? Don't get panicked if you can't find the best solution. Because we are here to offer you the best product that you need. 
Nikwax is the best leather conditioner for boots that softens and makes your footwear water-proof and at the same time provides ultimate comfort. 
Area of Coverage:
Nikwax Conditioner can be applied on new full-grain leather, SympaTex & Gore-Tex footwear, etc. 
Special Features:
This softening shoe conditioner restores suppleness and extends the lifecycle of your dried-out leather goods. 
The most amazing feature of the product is, you can not over apply the conditioner because of the water-based formulation. Your shoes will stop absorbing it once you are done with the application process. 
Therefore, it prevents wastage and saves your shoes from being destroyed. Besides, the conditioner helps to maintain the breathability of your footwear. 
Pros:
Provides water-resistance quality 
Built-in sponge applicator
Smooths hard leather
Restore crack
No harmful chemicals
No added optical brighteners or added scent
Cons:
May darken leather color in some cases. 
The Distinction between Multiple Conditioners for Leather:
In the shoe care section of a department store, all the shoe care products like creams, waxes, polishes, and conditioners may look similar to you. You may get confused too. 
But these products are different from each other as to the application. Scroll below to see how different types of conditioner affect and improve the leather condition.
Generally, you will find the following basic forms of leather conditioner in the market:
Cream:
Such conditioner provides the needed elements to nourish the leather and restore moisturizer with the least color change. 
The cream compound doesn't dry out quickly, as well as it prevents cracking on the leather surface. Note that cream conditioner neither make your shoes shine nor does it make the shoes waterproof.   
Oil:
Neatsfoot oil (purified from shin bones and feet of cattle) and lanolin (derived from the wool-bearing animal) have been used for centuries to recondition, soften, and preserve leather. 
Inappropriate oil should be avoided at all cost, leather in contact with such oil may become sticky and rancid.   
Wax:
Though wax isn't deeply absorbed into the leather, it nourishes the fibers and protects water and humidity.
Polish:
Polish brings the actual shine on your leather products – usually leather shoes and bags. Instead of protecting the leather, it moisturizes and nourishes the leather and enhances the color. 
Although most casual items don't need polishing, in the case of a nice briefcase, fancy bags, and shoes, the need for polishing may show up.
Waterproofing:
A waterproofing conditioner (sprays or waxes) gives a coating to your leather items resulted in resistance to water, snow, and humidity. 
The good news is that such treatment is adequate to be applied once a year, yet the frequency of polishing still depends on your use of the leather item. 
In the case of a spray conditioner, you may need to spray again and again during the winter and rainy seasons. On the other hand, with a single application of wax – the coating lasts the entire season.
Wire/ Brush:
In the case of suede leather, any of the above-mentioned conditioners won't serve your purpose. 
We recommend you to go for a wire or brush specifically made for suede leather that wipes away any accumulated dirt and grime. 
You must not bring your suede products in contact with water as it worsens the leather condition.   
Why Use a Leather Conditioner? 
Conditioners restore the moisture and keep the leather soft and supple in the long run. As the fibers are lubricated, frictions upon the leather surface also get reduced. 
Besides, the conditioner will eliminate all sorts of stains from the leather, as well as the color will deepen over time. The patina of your shoes will get enhanced too.  
Besides, it puts your leather shoes back to life and revives the leather's natural shine. The minor scuffs and scratches also get filled and make the leather resistant to water and humidity.  
Do You Need to Invest in a Leather Conditioner? 
The answer largely depends on what you want your leather boots to look like and the importance of it in your daily life. 
Maybe a pair of rugged working boots needs less care compared to a pair of classy dress shoes. Similarly, a motorbike jacket and travel bag are likely to be exposed to more harsh weather conditions than a casual jacket and office bag mostly you have them on around the city or commute to work.
It's also associated with your preference or taste. Some people want their appearance to look posh and clean. Whereas, others don't bother making them look fancy – fine to have scratches or natural wear on shoes or bags.
Thus, decide as to what your leather made products to be looked like, and afterward invest in the right conditioner that goes with your leather item.
How Often Should You Condition Your Leather Boots?
This depends on the kind of conditioner that you have applied to your leather boots. Normal leather conditioner usually lasts 4 to 6 months, thus conditioning needs to be done twice a year. 
However, if your boots are often exposed to the sun – they should be conditioned 3 or 4 times a year.  
Yet, the frequency of polishing largely depends on the kinds of boots that you wear and how often you put them on. 
If it's a pair of rugged working boots they are worn in a harsh environment – should be conditioned once a month. Whereas, dress boots are worn less – conditioning every 2 to 5 months will suffice.
We have outlined some conditions here, you'll know when to condition your leather items:
The leather looks very dry or seems thirsty.
When your boots have come into contact with water, snow, or salt.
Showing signs of crack or scuff marks.
After a good thorough cleaning as the cleaning agents may wipe the natural oil or moisturizer.   
Note that you must avoid over-conditioning your boots, as such practice may result in oversaturation of the leather. Loss of color, excessive wrinkles, loss of natural breathability, and leather separation are also the possible cause of over-conditioning.  
Basic Knowledge of Leather Conditioner Ingredients:
Usually, leather boot care products or conditioners are broadly separated into two categories: oil/ cream-based conditioner and wax-based waterproof conditioner. 
Go for wax-based conditioners, if you have a pair of hard-wearing boots often exposed to the harsh environment. 
Choosing an oil/ cream based conditioner will be a wise decision if you have a pair of dress or casual boots.
Indeed, most leather conditioner brands don't reveal the exact ingredient list used in their products. Yet, here we list some common types of ingredients that most leather conditioners contain.
Lanolin :
As we have already mentioned above that lanolin or wool grease comes from wool-bearing animals, usually from sheep fleece. Lanolin, of course, is a long-standing, effective leather care treatment. Nowadays, skincare products for humans also contain lanolin.
The only disadvantage of using lanolin is that it doesn't fully soak into leather, and consequently, it leaves a residue on your boots.
Beeswax :
Beeswax can be the best boot conditioner. As it has the natural way to condition and waterproof your boots. It hides the small scuffs and scratches as well as creates a waterproof barrier. Conditioner containing high beeswax should be avoided on dress boots as it may ruin the natural shine.
Mink Oil:
Mink oil is derived from the fatty layer of mink skins. Mink oil helps to moisturize and soften your boots, also, creates a waterproof barrier. As to the cons of mink oil, it may darken the leather and leave the greasy residue which attracts dirt.
Coconut Oil:
If you want to recondition your leather boots with a household item, coconut oil can be the best option. Besides, many popular brands use coconut oil as a primary ingredient to produce their leather care products. Yet, avoid excessive use of coconut oil as it may discolor the leather.   
Final Thoughts on The Best Leather Conditioner for Boots:
You will find hundreds of leather conditioner products available in the market, among them choosing the best one can be difficult. Hopefully, the above-mentioned guidelines will help you to choose the right leather conditioner for your shoes.  
Our top ten leather shoe moisturizers are the best ones in their respective fields. They will protect your leather shoes and at the same time, will bring about a new look.
So, make haste to buy the best leather conditioner for boots that suit you.